"Genghis Khan and his brother Don
Could not keep on keepin' on"
(1971) "You Ain't Goin' Nowhere" – Bob Dylan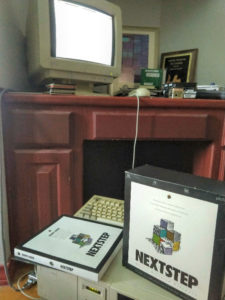 Working with the JAWS machine brought me back to thinking about NEXTSTEP 486 being developed on that machine. I only know part of the story first hand. Andy Groves and Steve Jobs were friends. Between the two of them, it was decided that NeXT should create a 486 version of NEXTSTEP and that JAWS would be the best development platform. If I recall correctly, it was late December 1991 that Steve, Avie Tevanian and a few other NeXT folks came to Michael's conference room and told Michael, Glenn Henry, probably Dennis Jolly, some other Dell folks and me about their plans. Glenn and I went to hear Steve announce NEXTSTEP 486 and demo on JAWS at NeXTWorld in January 1992. Dennis was the primary sales VP providing impetus for joint Dell/NeXT efforts — Dennis and I would routinely go to the (in)famous NeXT headquarters in Redwood City to discuss our joint plans.
NEXTSTEP 3.2 for the 486 was released about the time I left Dell in October 1993. Somehow I received a box or two with the installation media and documentation. For 25+ years it sat unused as I occasionally wondered if I should try NEXTSTEP 486 on my JAWS machine. Finally, I did.
It took quite a few tries to get NEXTSTEP 3.2 working properly on the DGX. While Dell SVR4 restricted support to a subset of the peripherals Dell sold at the time, NeXT tried to support a very broad selection of peripherals. While Dell SVR4 successfully attempted to autoconfigure for most peripherals, NEXTSTEP 486 depends on the person installing the peripherals to be knowledgeable about IRQs, I/O addresses and peripheral memory addresses. Once I was an expert at such things and am still able to sort things out adequately for NEXTSTEP.
NEXTSTEP 486 also seems to have a serious Y2K problem, or maybe just problems with dates in general. The installer considers dates much past 1993 to be "preposterous" and resets the date before proceeding. Once I set the date to the current date after install — the kernel panic'd on reboot and I was forced to reinstall again.
Enough people have griped about Netinfo that I will limit my griping. Though I still have a couple of PowerPC Macs that run Tiger (OS X v10.4), and, in principle, could provide Netinfo service for NEXTSTEP 486, I had no desire to go that route. NEXTSTEP seems to allow for NIS, as an alternative to Netinfo, but I had no desire to setup NIS, either. I finally figured out how to get the networking to work relatively normally without Netinfo or NIS, and get NEXTSTEP to boot uninterrupted with complaints about missing Netinfo/NIS servers, but the trial and error was no fun, and it is still challenging to make simple network changes.
In any case, I was thrilled to have NEXTSTEP 486 working.
P.S. NEXTSTEP seems to not have anticipated large drives very well. Besides the IDE/PATA problem I've discussed before, I haven't gotten NEXTSTEP to install on disks larger than 1G. I can get NEXTSTEP and Dell SVR4 to dual boot on 1G drives, so I was hoping to have both available on the 9G drives I've been using with Dell SVR4.