"Genghis Khan and his brother Don
Could not keep on keepin' on"
(1971) "You Ain't Goin' Nowhere" – Bob Dylan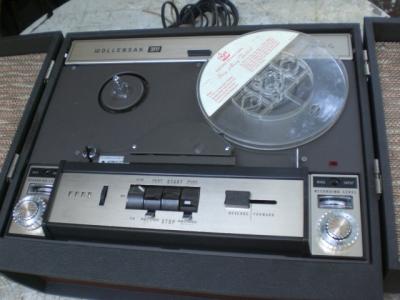 For many years, starting in high school, one of my ambitions was to make good recordings of live music. Until I could afford and justify the cost of good machines, I progressed through a series of mediocre, but less expensive reel to reel recorders, starting with a Wollensak similar to the photo at left.
The Alesis iO|14 and iO|26 cited in Finally, a good enough multi-track recorder? served me well until they failed this year. So far, I'm even more amazed by the capabilities (and low cost, comparable to what I remember of the Wollensak price) of their replacement, a TASCAM US-16×08. I've barely exercised its capabilities, but so far I'm limited by my capabilities, not the equipment and software.
I realized this summer that I have literally decades of live music recordings that I now know how to digitally process, with current equipment and software, far better than what I did with some of them 20 years ago. Further, there are some, from The Vulcan Gas Company, KT Jubilee, AWHQ, etc., that have been in storage since the 70s that may be much more interesting in light of modern processing technology.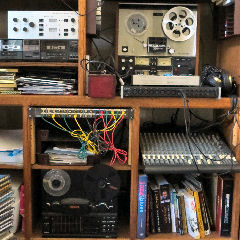 Clockwise starting upper right: TEAC 2340, Advocate 101, TASCAM US-16×08, Mackie 1604VLZ4, Fostex A8, patch panel,  Sony cassette, Advent 100
However, most of my reel to reel equipment had stopped working years ago and been given away for recycling. I started shopping on eBay. All of the reels are 7″ or smaller (diameter). Most of the interesting ones are either 2 or 4 channel 7 1/2 ips, some with Dolby B. All things considered, a TEAC 2340 seemed to make the most sense as the primary machine. I found one in very good condition. I also found a couple of Dolby B units, Advent 100 and Advocate 101, same models I used to use. I have those, Fostex A8 and Mackie 1604 connected with a patch panel such that I should be able to process any of the old recordings through the US-16×08 and/or make new recordings without recabling.
Planning all that and fitting it together was fun, but now the real fun will be seeing what condition the old reels are in and how they sound compared to my memories.