I didn't use to pay much attention to Lee Oskar as a harmonica player, thinking of him as auxiliary to WAR and tunes such as Low Rider:


That was before early this year when a Facebook post from
Led Kaapana
extolled:
At first I was mystified as to how Lee was doing this, but eventually figured out that he uses Db harp in first position and F# in second position, both tuned to A 441Hz, as he tunes his brand of harps.
The Ho Se YouTube demonstrates admirably what Lee is doing, but the synthesized backing track pales against the original, particularly the original bass part. Nevertheless, getting the A 441 harps and after watching Ho Se I know how to hit all the notes. That's not to say I can play the piece as well as either version, but if Dylan can compare himself to Caruso, then I guess I can compare my playing to these versions.
(There's an interview in Don't Look Back where Dylan says "I'm just as good a singer as Caruso. … You have to listen, but I hit all those notes. And I can hold my breath three times as long if I want to.")
Continuing with the multi-harp pursuits, I revisited the Bonnie Raitt "Runaway" with Norton Buffalo switching through four harps, all in second position, for the primary descending phrases:

As Wilf explains, Norton lost track of the fourth harp and successfully ends that segment with contortions that overcome his loss. (I prefer to play Runaway on a chromatic, but neither Norton's approach nor mine comes close to the original organ part.)
However, all those pursuits lead me back to a quote attributed to Mickey Raphael, to the effect that two living players, Kim Wilson and Charlie McCoy, surpass all others. I concur. I first encountered Kim when he took over the stage at a Hub City Movers reunion at Soap Creek Saloon in 1972 or so, an overwhelming presence. See Kim showing off at

However, as I've suggested before, Charlie McCoy is singular:

Though I understand what he is doing, I can't make the Caruso claim there.
Update July 2022: Even Forbes writes about McCoy, so why the Opry didn't officially include him until now is a mystery.
Update August 6, 2022: One of the many virtues of the Audacity® audio software is the "effect" that can change tempo without changing pitch. If I use that to slow down Orange Blossom Special, I can now make the "Caruso" claim that I can hit all the notes, but I don't have the dexterity to match McCoy's speed.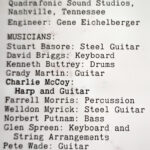 Update August 15, 2023: Listening to Joan Baez' Prison Trilogy this morning, I thought "that must be Charlie McCoy" — of course, it is Charlie…