May you stay, Forever Young – Bob Dylan (1973)
Friday morning, an Austin impresario, typically loquacious, needed few words, mostly inflection and tone, to rouse me to realize I was ignorant of the importance of Stan Alexander. In particular, I had recorded Stan July 10, 1970 and neglected to make that recording available, but I have now.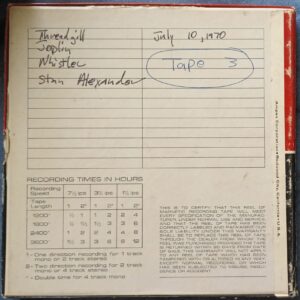 I have my excuses. That was more than a few years ago. There was a huge crowd, gathered to celebrate Kenneth Threadgill, excited by Janis Joplin's surprise appearance. I was pre-occupied with running the sound system and keeping the tape machine going. Some of the microphones were problematic. Friends surrounding me were distracting. Intoxicants were involved. Yet, if the organizers chose Stan to feature that evening, that should have been enough to make me take notice. Instead, Stan's name, for me, was an afterthought on my list of performers.
April 12, 2017: Memorial for beloved SFA professor, folk singer to be held in Austin